Do you want your students to develop coding skills relevant to future employment opportunities?
If so, Tinkerly has got you covered!
Tinkerly is on a mission to help schools to upgrade themselves to STEM-powered schools by offering a special Coding curriculum that includes subjects like Coding, AI, and Robotics as per the NEP 2020(National Education Policy) Guidelines.
This coding curriculum is designed and curated by a team of IITians. It helps students to develop 21st-century skills like logical thinking, design thinking, computational thinking, and problem-solving at an early stage of their lives.
It covers the grade-wise concepts of AI(Artificial Intelligence), Robotics, IoT(Internet of Things), and Game Development for the students of classes 1 to 10.
What Makes Tinkerly's Coding Curriculum Unique?
In this digital-fueled era, coding is an essential skill that opens endless possibilities to young minds. When a student learns how to code at an early age, they start to develop their thinking capabilities. These thinking abilities enable students to solve real-life problems by using their creativity and innovation.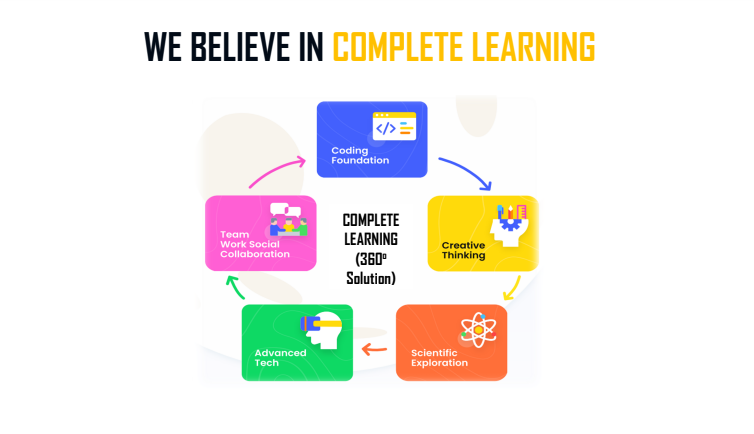 The play-based curriculum of Tinkerly is designed in such a way that it helps to bring out the inner innovator of your students to life. Our coding curriculum offers an all-encompassing technology-based curriculum for students that covers coding foundation to scientific exploration and extends to design thinking to robotics.
Why Coding Curriculum Is Beneficial For Your School?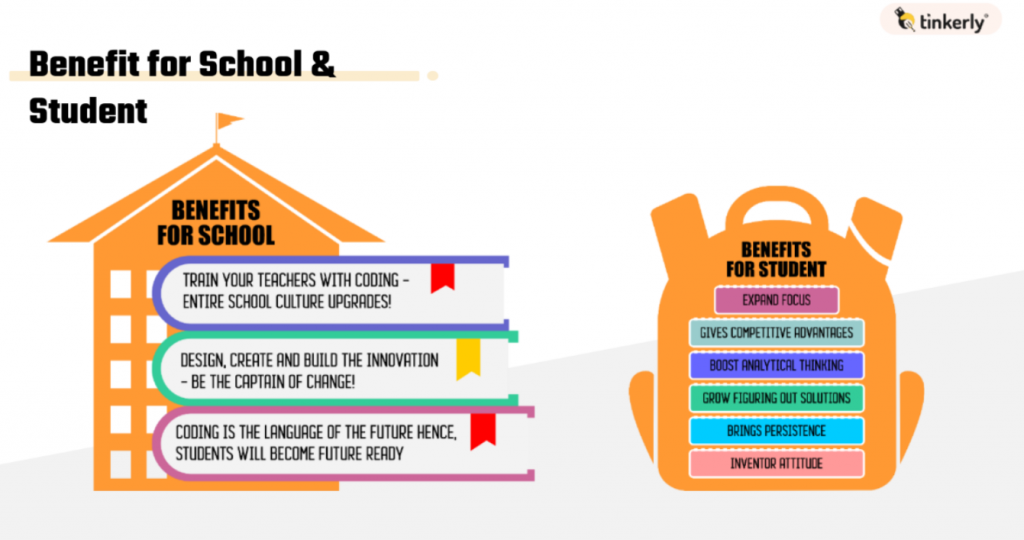 1. Stay Ahead Of Peers: The coding curriculum helps students gain 21st-century skills that will give them a competitive advantage.
2. Develop Inventor Attitude: When students learn how to build cool gadgets from an early age, they develop a maker mindset. It can bring out the inner innovator of the student.
3. Spark Student's Interest In STEM Education: Getting a chance to build cool real-life projects based on innovative technologies of Robotics, IoT, ML & AL spark their natural interest and curiosity towards STEM and they might pursue it as a full-time career.
4. Complimentary Membership of Let's Tinker Online Innovators' Community: The students will get free access to Let's Tinker app that allows them to showcase their creativity with the rest of the world.
5. Getting Certified by a Renowned Organization: The students who will complete the course will be certified by US-based STEM.org.
Summing Up!
In this blog, we have discussed about the Tinkerly's Coding curriculum offering to schools and how it can spark a student's interest in the STEM field from an early age.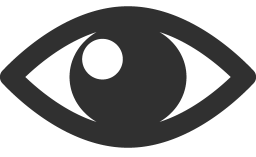 19386