Tinkerly- a Jaipur based startup has come up with a unique idea of incorporating the STEM toys into the Online Live One-on-One coding classes to add a flavor of experiential learning and make the coding classes more fun and interesting for the students. Unlike other Online coding classes, Tinkerly has its unique offering which uses the Flipped Classroom approach to bring STEM & Coding knowledge to students with their superior pedagogy, blended learning coupled with a play-based curriculum.
Parents who are looking for Online coding courses for their kids must definitely consider this special One-of-a-Kind Self-paced home-based Online STEM learning & Coding Course which is blended with STEM toys & uses a Flipped Classroom approach to provide customized learning to the students with the help of providing recorded lessons and conducting Online Live One-on-One sessions. The Live 1:1 Classes are conducted by expert educators who are the graduates of top tier institutes and hold a good mentorship experience.
What Type of Perks are Offered by Tinkerly's Online STEM Learning & Coding Course to its Subscribers?
Given below are some of the most amazing perks offered by Tinkerly's self-paced online STEM Learning & coding course: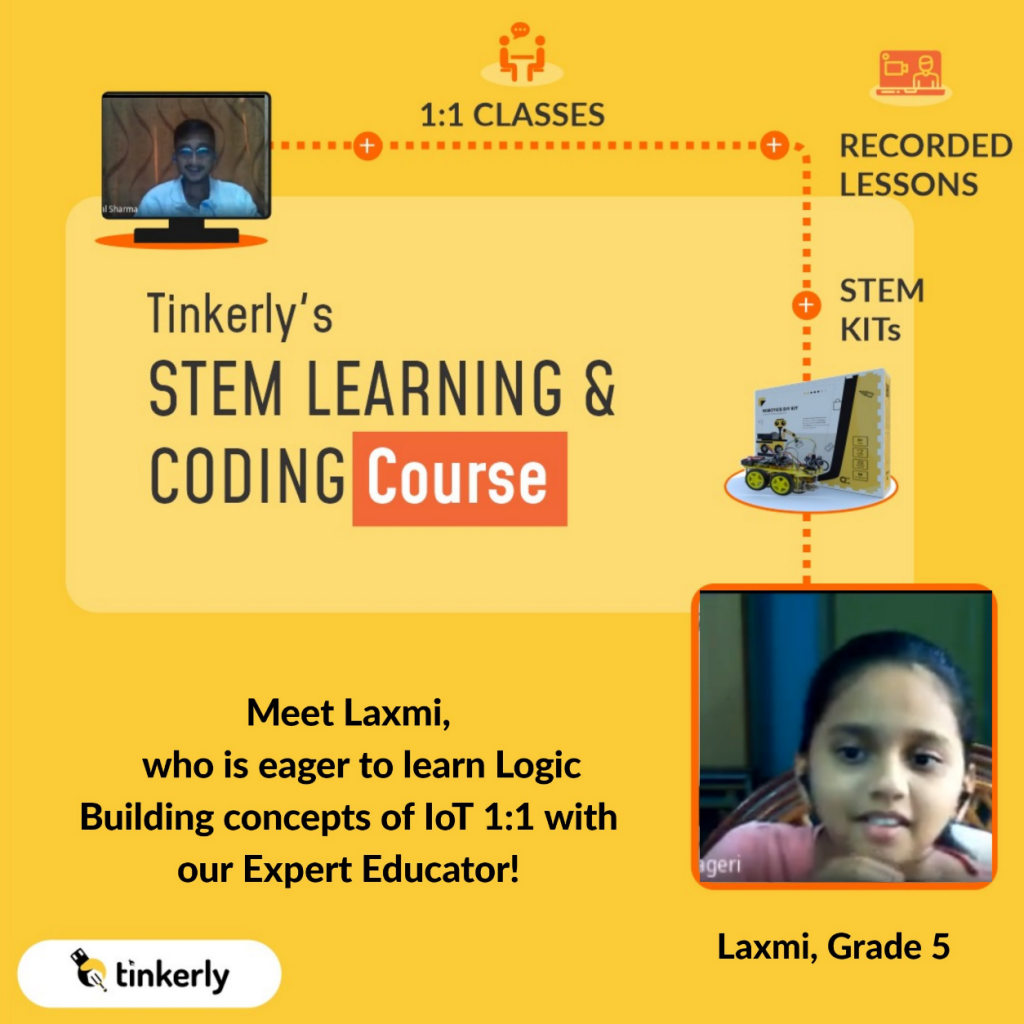 1. Easy Access to course content
To get access to the course content, the student has to download the Let's Tinker App which is available on google play store. All the recorded lessons are available on Tinkerly's STEM Learning app – Let's Tinker. After choosing the most suitable class package (Learner or Achiever), the student will get access to the recorded lessons which are curated by a team of IITians.
2. Trained Faculty with Consistent Support
If the student is having any kind of trouble regarding any particular concept from the recorded lessons, then he/she can drop a query in the support section of the Let's Tinker App. After examining the query the expert educator, if needed, will schedule a dedicated doubt-solving One-on-One Live session and will clear all the doubts of the student regarding that particular topic.
3. No Questions Asked Refund Policy
The Parents will have full freedom to cancel the course subscription within the first 2 weeks or they can also downgrade to other packages(For example, If the parent has subscribed to the Achiever package worth Rs. 16,000/- for their child, then they have full freedom to downgrade the existing package within the first 2 weeks to the Learner package worth Rs. 6000/-). There will be zero cancellation charges.
In case the Parents will request a refund post 2 weeks, then only the price for availed sessions and the STEM kit will be charged.
4. Certification
This is the most amazing thing about this course, no matter which class package you choose (Learner or Achiever), a certification will be provided to the student after the successful completion of the course which can be downloaded freely.
5. Lifetime Free Access on Let's Tinker App
The paid course subscribers will get lifetime Free access to various projects, community learning, and support from the Let's Tinker App.
After reading about all the perks of this course, you must be interested to book a free demo class for your child with us. Let's discuss the entire procedure of Booking a Free Demo Step-by-Step in the upcoming paragraph:
How to Book a Free Demo Class with Tinkerly?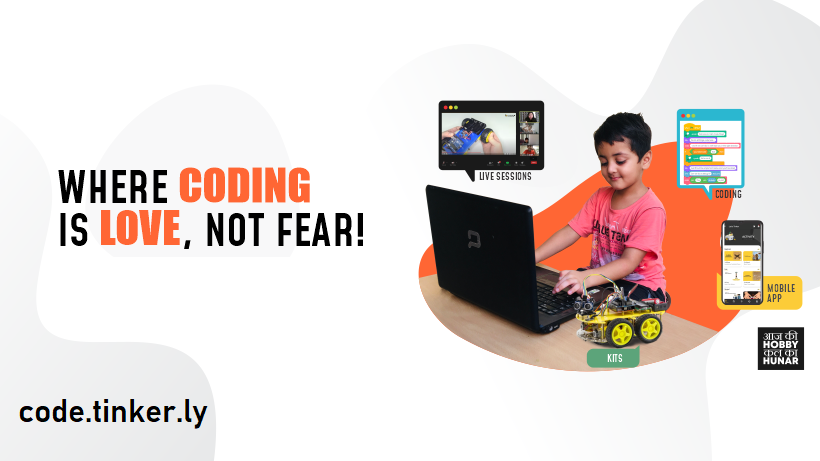 Given below are the steps which you can follow in order to book a demo class with us:
1. You need to visit our official website code.tinker.ly and click on the blue color button "Book a FREE Demo" which is present on the upper right corner. 
2. Now you need to fill out the complete form fields such as Parent's Name, email, Kid's Name & Grade, etc. and after you are done filling the form you need to click on the Schedule a Free Class button.
3. Now you have Booked the Free Demo. Our team will reach out to you to help you schedule the demo class. You have full freedom to choose the preferred timing depending upon the slots.
4. After choosing the Time Slot for coding class, our expert educator will take one hour of coding One-on-One session with your child over at Google Meet.
5. If you like the demo session and are interested in our course, then you can continue by buying any of the 2 class packages- Learner(Foundational Learning) & Achiever(Foundational Learning + Simulation-based learning + Real Projects).
6. Remember, if you choose Achiever Package then only you will get access to the STEM kit which has different variants according to the grade of the student.
7. After you choose the most preferred class package, we will schedule your weekly sessions(recommended 2-3 sessions per week) and also give your child access to recorded lessons on the Let's Tinker App so that he/she will continue the learning journey with us.
Conclusion
We have discussed the perks offered by Tinkerly's Online STEM Learning & Coding course to its subscribers and also learned about the process of booking a Free demo class for the course. If you as a parent would like to see an all-round development in your child then don't forget to subscribe to this fascinating course.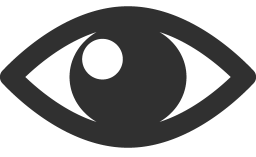 1037