Kids just love playing with toys. They spend countless hours playing with them. Most of the toys the child plays with become useless after a certain period of time and end up in the trash. The parents then have to buy yet another toy for the sake of their kid's happiness and this toy, just like its predecessors suffers the same fate. This vicious cycle costs a lot of money to the parents.
What if there is a way to fully utilize this money?
Yes. There is a better way. Instead of buying the usual toys for kids which impart no knowledge, parents should buy Troot – the AI-powered STEM toy offered by Tinkerly. The toy will help the kids in learning essential cognitive skills and in activating their inner curiosity. Troot is a unique and one-of-a-kind product. Parents should definitely buy it.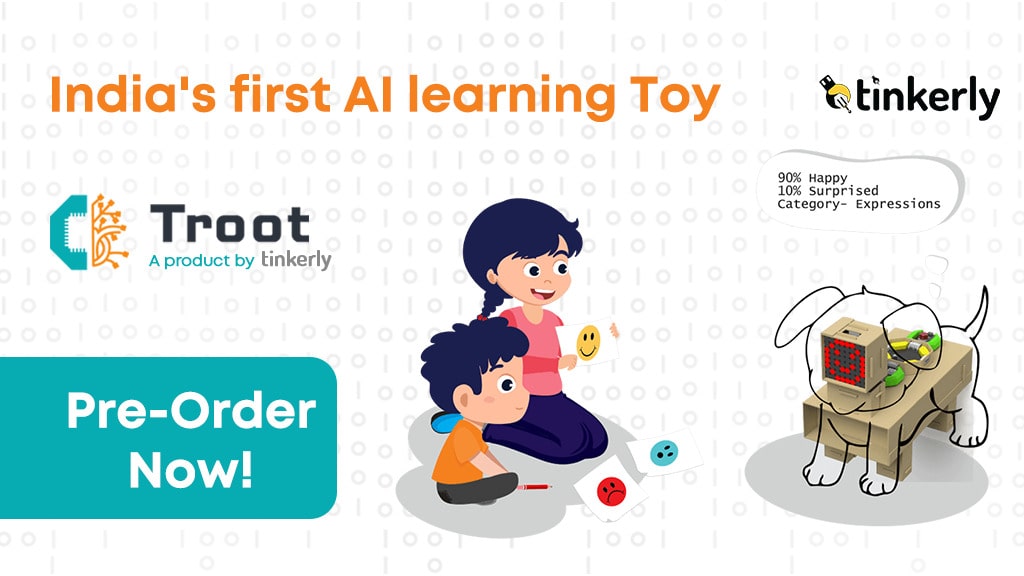 Brief Introduction to AI & Machine Learning
AI in simple words means training the machine in such a way that it can develop some sort of artificial intelligence of its own and can be able to make its own decision. We can achieve this power with the help of machine learning which is an application of AI that makes the system capable of self-learning and improving on its own by observing the past data. Troot also works on the principle of AI & Machine learning. At an early age kid's brains are very curious. If we train them with AI & Machine learning then they will develop a genuine interest in these technologies it will be good for the future.The real-life examples of AI applications are Alexa & Siri. Do you know Instagram Algorithm works on the machine learning model and shows you the unique feed on the basis of your past behavior of interaction with the earlier posts.
Why Troot is a Perfect Choice for Your Kids to Play From an Early Age?
Our Troot product is specifically designed for the children of 8+ Years of age to sow the seeds of Artificial Intelligence in them from an early age. We choose this particular age group because the Cognitive development (the ability to think & reason) will start from this age group (6-12 years) among children. The concepts which children learn at this age they will remember it throughout their life.
For Example, Do you ever wonder why everyone in India loves cricket and dreams of becoming a cricketer? This is because they are watching cricket matches from an early age thus they develop a genuine interest in cricket. Likewise, kids who interact with Troot will develop a genuine interest in Artificial Intelligence. Thus, starting something at the right time also plays a strong role.
So Parents! Let go of the thought that it is too early for your child to learn concepts like AI & Machine Learning. The sooner your kid learns the better chance he gets to convert his interest into great expertise in the future!
How Troot Can Help Your Child with AI-Learning?
We, here at Tinkerly, understand the true value of the notion of learning-by-doing. We offer products that enable kids to learn futuristic technologies in a fun and entertaining manner. With our AI-Based STEM Toy – Troot, we have made hands-on AI learning a reality.Troot aids the kids in getting good exposure to the implementation of AI & machine learning in our daily lives.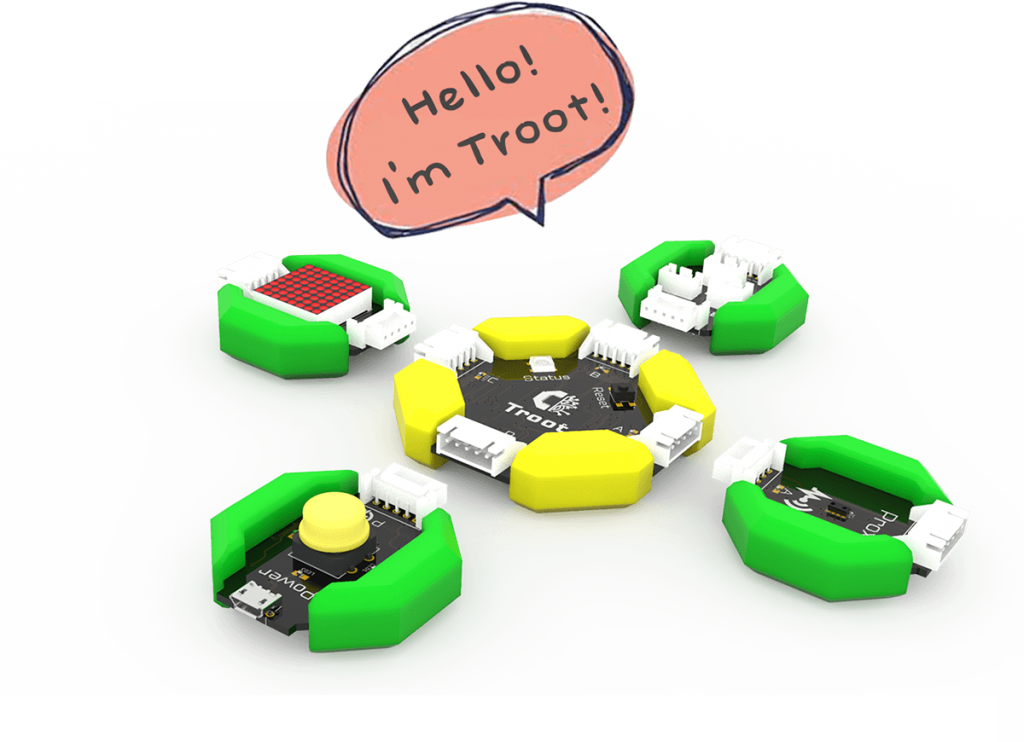 Troot uses a scenario-based approach through which the kid first understands the problem and then tries to solve the problem. The problem can be solved with the help of using AI principles, building a prototype, training & integrating a machine learning model. The Plug & Play modules are also accompanied in the Troot kit.
How Does it all Work Out with Troot?
Troot- India's First Artificial Intelligence learning toy to augment and enhance the Knowledge-seeking behavior in kids. It gives the chance to young innovators to train & play with their own artificial Intelligent creation. Troot maker kit consists of many types of modules such as – Brain, LED Matrix, Proximity Sensor, Input/Output, etc., as well as accessories such as – Servo Motor, LED Strip, etc. to support a multitude of creative projects.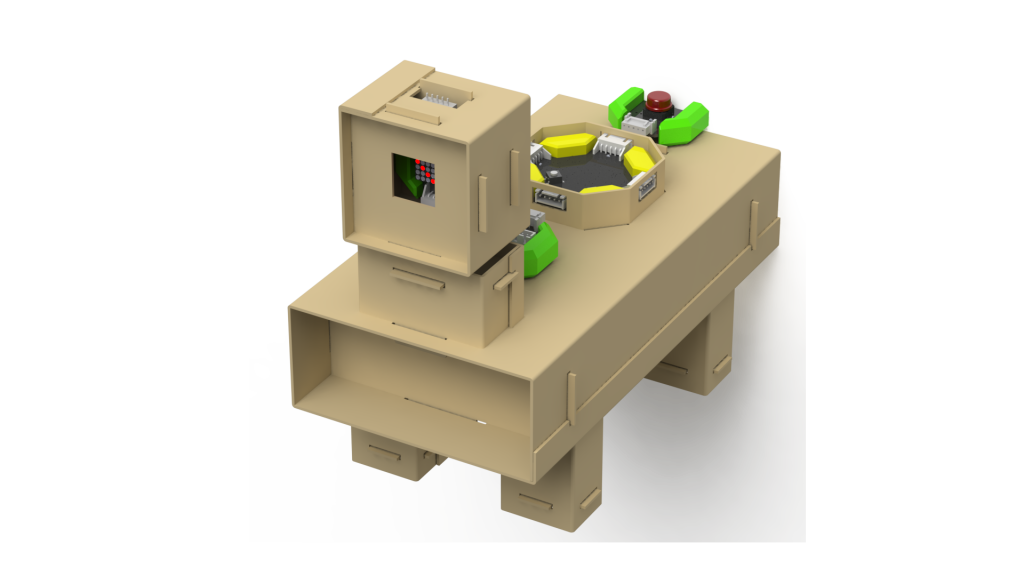 The Troot kit comes with many cool and exciting projects like – Smart Lamp, Smart Bike, Robo pet, etc. It just takes 3 key phases to complete these projects. Let's begin with the Smart Dustbin project.
Phase 1: Create
In this phase, you need to assemble all the parts from the Troot maker kit to make them functional. You can read the manual given with the Troot maker kit on how to set up your project. Just follow the instructions and assemble all the parts and accessories and make your project a functional model.
The Project is all set and you can now begin the next phase i.e Learn
Phase 2: Learn
In this learning phase, you need to train your machine learning model.
Now let's make your project smart.
Teach the machine which you have created by using the tools to understand our language with the help of natural language processing. Train a machine learning model with the data to solve your problem. To teach the machine our language we need to know a few terminologies.
In order to better understand let's just say for example. We are making a Smart Dustbin. We have created the dustbin using the Troot maker kit and now we want to make it smart. We want this smart dustbin to differentiate between 3 types of waste namely – Plastic, paper, & Food Waste.
Now we divide the 3 types of waste into classes. Now we make our system understand with the help of object detection. We need to add corresponding images to the respective classes. For example, the image of plastic waste goes into Plastic waste class. Likewise, we do this for all the classes.
After adding the images to the corresponding classes we will test the accuracy of our machine learning model that we have trained.
If we achieve overall accuracy of less than 70% then we need to add more different images corresponding to different classes to improve the accuracy. Until we achieve the accuracy greater than or equal to 70% we need to try again and again and when we do achieve it then it is time to deploy the machine learning model to the dustbin and make it smart.
To check whether it works or not we need to place the phone on the mobile stand and see how the system works. Any object which comes near the trigger sensor will be captured by the camera and will be directed to the bin according to the object detected. For example, If you put a paper waste material near the trigger sensor it will be captured by the camera and you will be directed to use the Paper Waste portion of the dustbin.
Now we move to the final phase of Play.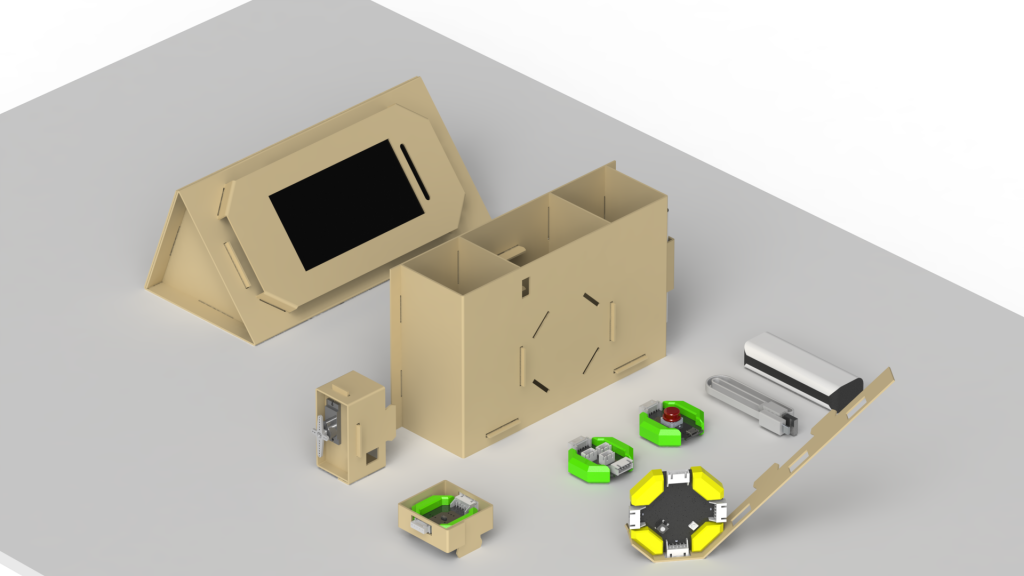 Phase 3: Play
After everything gets done, play with the system as many times as you can and earn more and more gold coins.
So just like this smart bin, you can do wonders with all the other cool and exciting projects which are available in the Troot maker kit.
What Are The Features of Troot?
This Troot Kit is powered by Dual-core Xtensa ® LX6 MCU processor
Uses Custom Vision & Custom Natural Language Processing( NLP) for Machine learning.
It uses ESP 32 Bluetooth Module for connectivity
For prototyping purposes, it uses 3 ply corrugated DIY sheets| Rubber Bands
Plug & Play Functionality
Design & Prototyping
Rechargeable Battery
Over the Air Upgrades
Wireless Programmable
Why Choose Troot Product?
Troot provides your child with an AI-powered learning STEM toy that can act as your kid's best friend and will teach him the following skills at an early age.
Create a habit in your kids of learning by experimenting. Your kid will develop his own problem-solving mindset.
It will spark curiosity in the kid that will enhance the child's imaginative power.
It will make a solid foundation of learning that will stay with the kid throughout their life.
The Child will be able to derive new plans to solve real-life problems with the help of playing with interactive projects.
Your kid will develop a genuine interest in STEM subjects.
It provides good exposure for Kids to advance technology like AI and Machine learning.
These benefits are just the tip of the iceberg. There are many other valuable things your child will learn by interacting with the Troot kit.To discover more features about our product, visit https://tinker.ly/troot
If you are interested in buying our product then we have something important to tell you all!
The total cost of Troot is Rs. 14,990 but you will be eligible for a 40% discount if you Pre-Order the Troot Kit Right Now!
What are the Benefits of Pre-Ordering the Troot Kit?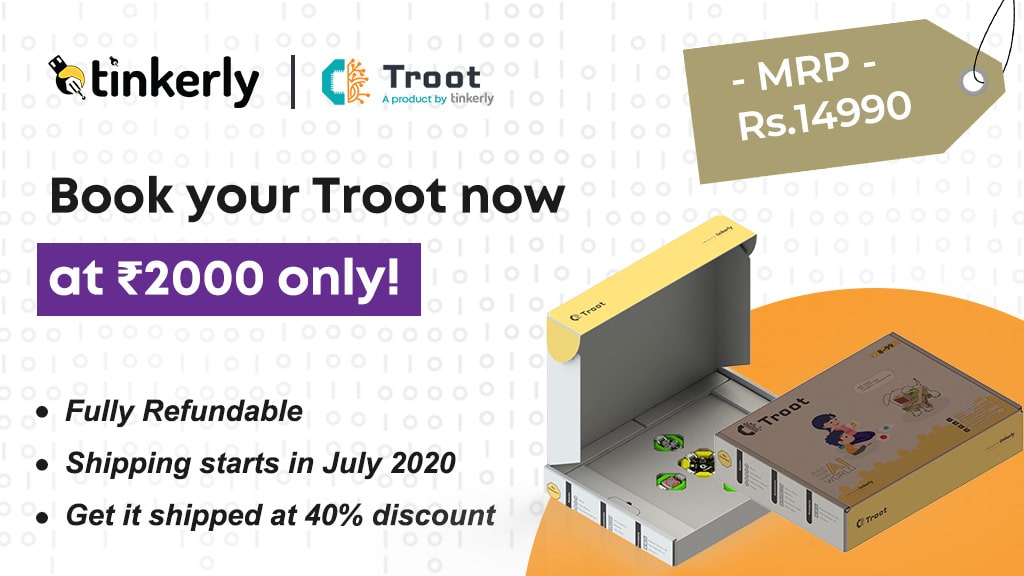 1. With just Rs. 2000/- only you can book your Troot Kit.
2. You will get a 40% discount on the overall cost. It means if you Pre-order now then you only have to pay only 8990/-Rs. for the Troot Kit.
3. If you don't like our product then the Pre-order amount is fully refundable.
You will be contacted via mail for the remaining payment of Rs. 6990/- as soon as we start shipping our product. Keep in mind that the 40% discount is subjected to first-come-first-serve. So better hurry up & Pre-Order Troot Kit Now!
Give your child access to the Troot- India's First Artificial Intelligence learning toy and shape the better future for your child.
So Parents, What are you all waiting for? Give your kid a better future and Pre-Order the Troot kit NOW!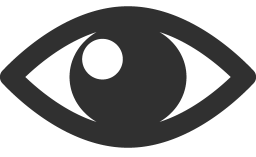 2299