Tinkerly has come up with innovative Online Coding courses where the students will learn how to build Next-generation projects using which they are able to solve the Real-life problems. The coding courses consist of a combination of recorded lessons as well as live sessions which can be accessed by the child with an option to book Live classes with our experts at regular intervals. The lessons consist of interactive assignments and exciting projects that will multiply the fun and enhance the learning outcomes of the child as per his grade and age.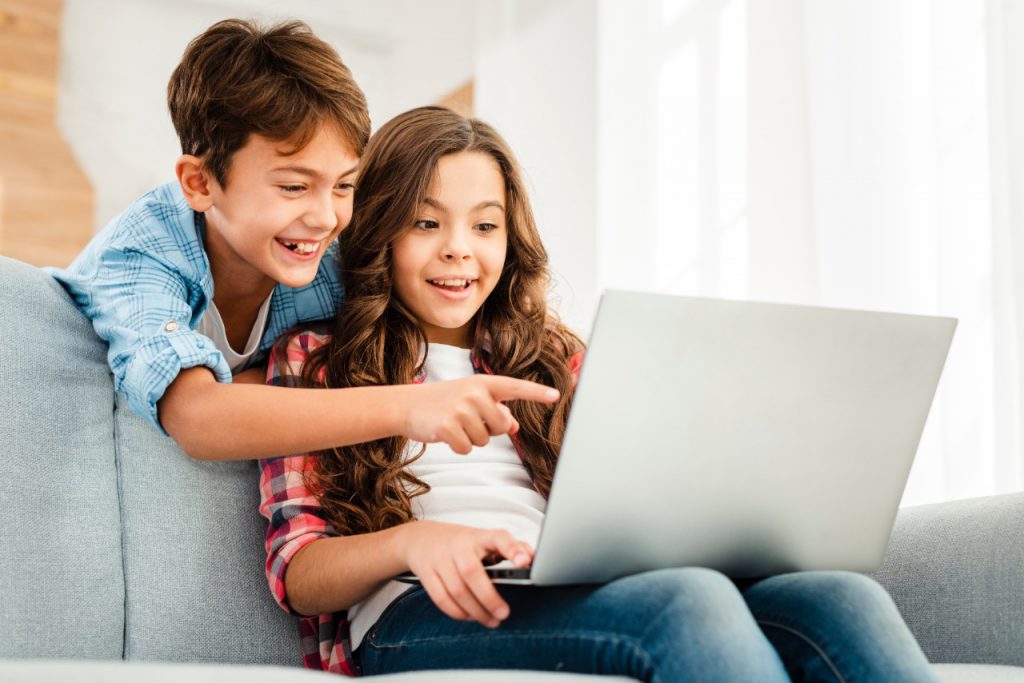 By enrolling in Tinkerly's coding course the students will get a chance to learn about the basics of coding along with learning about the new innovative technologies like AI, IoT, Robotics, Rapid Prototyping, Animation, Game development, etc.
All the Recorded lessons are available on the Let's Tinker App – a STEM learning app which is a goldmine of STEM knowledge along with the Quiz and assignments. As for the Live Sessions, they will be conducted on Google Meet.
What is so Special about Tinkerly's Coding Courses?
Given below are some of the most important features which make Tinkerly's coding courses special than other courses in the market:
1. Helps in Creation of Useful Product with Value
Tinkerly's coding courses are designed specifically for students to teach them the applications of coding and integrating the power of hardware and software to build useful devices, robots, working models, etc. The goal of this coding course is to make students capable of creating their own physical products which can have good commercial and social value.
2. Learning Integrated With STEM kit
If the student chooses the achiever version of the course then they will be provided with a physical STEM kit that consists of multiple interactive activities. These STEM kits will help students gain Hands-on learning experience and ensure that learning outcomes are not limited to online means only.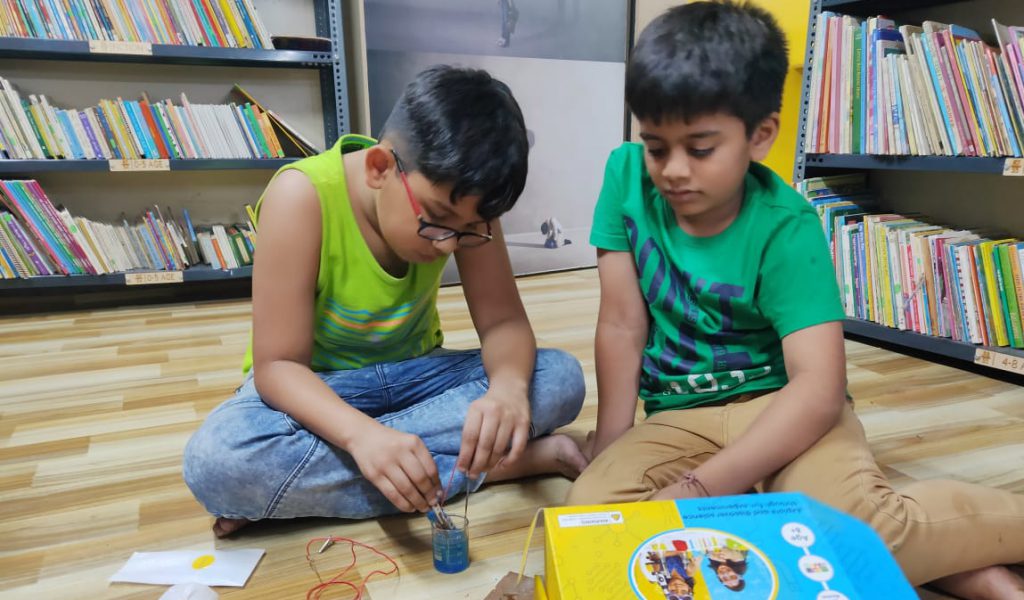 3. Offers Self-paced Learning for Kids
Tinkerly's coding courses offer Self-paced learning to students so that they can manage their school online classes along with the coding courses. The recorded lessons offered by Tinkerly's coding courses are completely Self-paced and the schedule for the one-on-one live classes can be done as per the convenience of the student at regular intervals. The students will also get the freedom to finish the project as per his/her availability.
4. Classes Are Conducted by Expert Educators
The Live One-on-One classes will be delivered by the graduates of Top tier institutions who possess a good mentoring experience. If the student has any kind of doubt related to any particular topic in case of recorded lessons then he/she can ask the doubt by using the support section of the Let's Tinker App. In case the student has a doubt during Live one-on-one sessions that doubt can be addressed by the expert educators in a dedicated Live session which consists of revision, doubt-solving, and giving brief-up of the upcoming session.
5. The option of Offline Classroom Learning Environment
This option is only available for the students who live in the cities which have Tinkerly's STEM Space centers. They can opt for an offline Classroom learning environment which will be conducted by the trusted partners of Tinkerly.
What Type of packages are offered by Tinkerly's Coding Courses?
There are 2 packages of Tinkerly's Coding Courses- Learner Package & Achiever Package: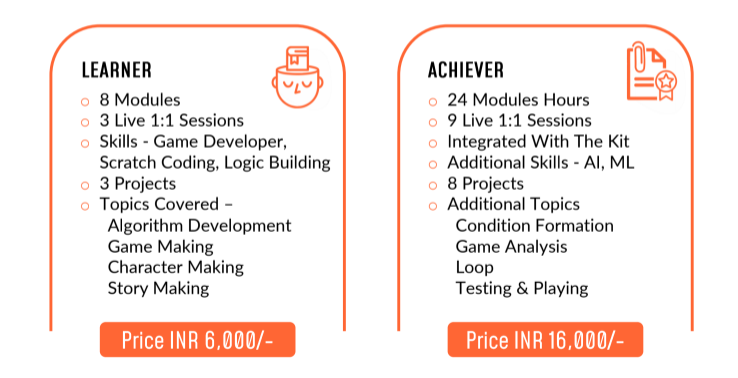 1. Learner
This version consists of 8 recorded Lessons & 3 Live 1:1 sessions which are useful for giving the initial exposure of coding to the kids. By choosing the learner version the students will get a chance to learn valuable skills like Logic building, Scratch coding, and Game Development, etc.
The Learner Version is worth Rs. 6000/-
2. Achiever
This version consists of 24 Recorded lessons, 9 Live 1:1 sessions, and a project Kit which consists of multiple interactive activities. By choosing the Achiever version the students will get a chance to learn valuable skills like Condition Formation, Game Analysis, Looping, and Testing & Playing, etc.
This Achiever version is worth Rs. 16,000/-
The Payment can be made via TinkerMart which is available on the Let's Tinker App where all the online payment options are available. The Certification is available in both the packages of Tinkerly's Coding Courses.
What is the Grade-wise division of Tinkerly's Online Coding Courses?
Tinkerly's Online coding course is divided into 4 parts:

Is There a Demo for Tinkerly's Coding Classes?
Yes. There is a facility of Demo session which can be scheduled Free of Cost for the interested students. To Book, a Demo coding class with Tinkerly, get in touch with us at ceo@tinker.ly or call us at +91-9587884145 from Monday to Friday ( 9 AM to 6 PM) & on Saturday (9 AM to 2 PM).
Our Team representative will reach out to you in order to help you with scheduling the class. Our expert educator will then take a 60-minute coding session with your child.
If you like the demo session then you can buy any of our available class packages of Achiever & Learner. The student who will attend the Demo session will get a certificate of participation. The Parents can book the available Demo slot from Monday to Saturday Onwards from 10:30 AM to 7:30 PM.
Is there any Kind of Refund Policy?
Yes. There is a refund policy. You can cancel the subscription anytime within 2 weeks or you also have an option to downgrade to other packages. We here at Tinkerly have No Questions Asked Refund Policy. Also, there will be Zero cancellation charges and if in case you request a Refund post 2 week period then in that case the price for the availed sessions and STEM kit will be recovered.
Frequently Asked Questions
Q1. My child is presently studying in early grade. Will my child be able to understand?
Ans. Our curriculum starts as early as grade 1 but our experts ensure that learning happens at an early age in the form of play. We start a child's journey with animations, games, and basic drag and drop programming. Simple instructions, onboarding sessions, and constant support from faculties is also ensured.
Q2. What will be the frequency of live classes and the recommended pace for the recorded sessions?
Ans. Once in a week (After 3-4 recorded sessions).
Q3. Can my child independently make the projects?
Ans. Yes, We will share the project videos with the kids and also let them know the concepts in live and recorded sessions.
Q4. What is the duration for which I can access the sessions?
Ans For Learners package, the course will be open for 30 Days.
For the Achievers package, it will be open for 90 Days.
Q5. In which language courses are available?
Ans. Our recorded videos are available in English whereas we can incorporate both Hindi and English for Live 1:1 sessions.
Q6. How can I Avail Discounts?
Ans. Discounts can be made available in case of Siblings, Group bookings, or referrals.
For discounts, you may book a demo with us and our sales representative will get in touch with you for further communication.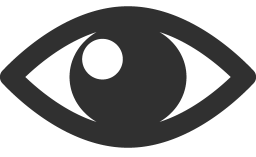 2639