Are you feeling stuck in your life?
Are you looking for some type of motivation or guidance to move forward in life?
Worry No More! Tinkerly has got you covered! 
This weekend Tinkerly is organizing two fascinating webinars- "House of Cards To Unzip Life's Tricks With Archana Prashar" and "फिर एक नयी उड़ान और मेरा नीला आसमान with Shwweta Padda"  that will de-stress your mind and provide you with a positive outlook towards life. 
Let's talk about these webinars one by one:
House of Cards-Unzip Life's Tricks With Archana Prashar
This webinar will be hosted by Archana Prashar who has experience of over 19 years in the field of Human Resource(HR) and is a certified counselor. She has conducted 3 webinars in association with Tinkerly on the exciting topics of Time Management, Women Empowerment, Self Reflection, etc. 
This weekend she will talk about the Life Tricks that will be very useful for us.  It will surely help you out and declutter your mind from all the negative thoughts which are stopping you to move forward in life.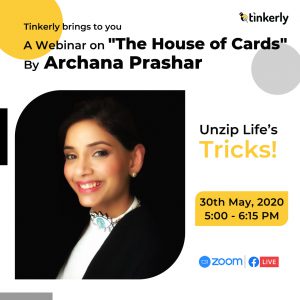 What Type of Things Do You Learn From This Webinar?
You will be able to inculcate essential life skills that will help you in managing your feelings and emotions in a more effective manner. 
You will get guidance on how to tackle tough situations in life and face any kind of situation and scenario. 
With the help of this webinar, you will be able to learn the worth of having a proactive approach in order to tackle or analyze a situation. 
You will learn about some amazing tools that will shape your life more authentically. 
You will learn various life tricks using which you can add energy in your daily lives and can stay active throughout the day.
You can watch the recorded live session for the Archana Prashar- House of Cards- Unzip Life's Tricks which is given down below:
        फिर एक नयी उड़ान और मेरा नीला आसमान  with Shwweta Padda 
This exciting webinar will be conducted by Shwweta Padda who is an actress and creative producer. She has also acted in the movie Love Aaj Kal. She has earlier organized a webinar on the topic  "A Sip of hope and Chai" in association with Tinkerly.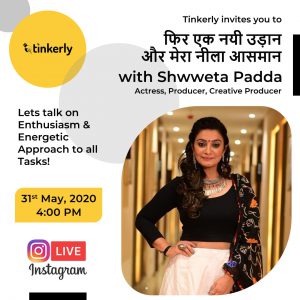 In this past webinar, she has talked about Hope, a positive attitude, and acting skills. This weekend she will talk about the various types of techniques of applying enthusiasm & energetic approach to all the tasks in our day to day life. 
This webinar is organized Live on 31st May 2020 at 4 PM onwards exclusively on Instagram.
So, Make your weekend special by watching recorded sessions of  Tinkerly's Fascinating Webinars!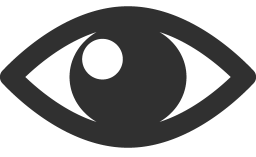 1212