Our young generation is blessed with the gift of technology. The children start interacting with gadgets like smartphones, tablets, etc. from an early age. They spend countless hours playing video games, watching Youtube videos, etc. on these devices.
Imagine a scenario, what if your child can play his own self-made game? Can you imagine how much confidence your child will get by building his own self-made game?
Now let's take things a step further! What if we told you that there is a way by which your child can also make NextGen projects which can solve real-life issues? Would you believe us?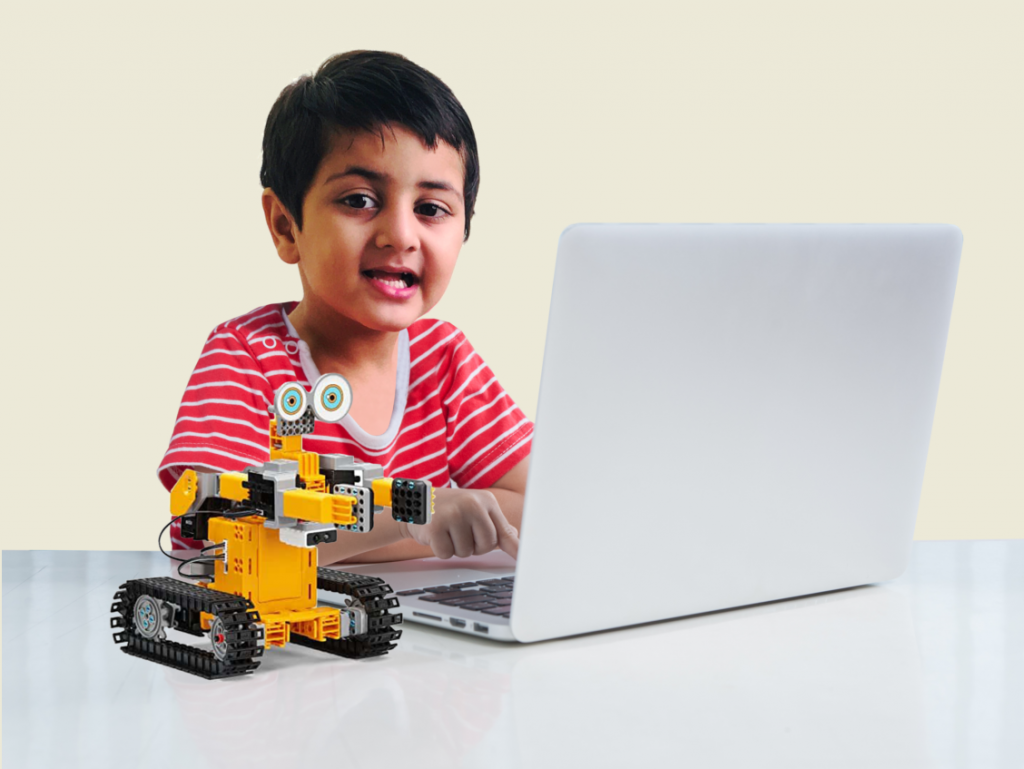 Well, Tinkerly has made this possible! By enrolling in Tinkerly's innovative self-paced online coding course your child can bring his innovative ideas to life and will be able to create tech that will help for the betterment of society!
Now you might be wondering that it will cost a fortune as you have seen a few glorified ads of other online coding courses!
Worry Not Folks! Tinkerly offers affordable class packages which offer top quality play-based curriculum, superior pedagogy, and flipped learning modules along with a complimentary STEM kit.
Tinkerly's STEM & coding course is affordable for a middle-class family and it is worth every penny!
What Makes Tinkerly Better Than Other Online Coding Courses in the Market?
We here at Tinkerly believe that every student has the potential to do better. We just give them a learning platform that will bring out their true potential. Our expert educators properly channelize the potential of our students and act as their friend in the entire learning journey.
Given below are some of the key features which makes this innovative course much recommended for the students:
Best Quality Curriculum
Our course curriculum is designed by the team of IITians in such a way that even the students of diverse learning pace can benefit from it. We give learning flexibility to our students and make sure he/she can understand the concept in detail. Our play-based curriculum also incorporates STEM toys to add a flavor of experiential learning and give students a chance to learn by doing.
Friendly Expert Educators
Expert educators at Tinkerly provide guidance to their students throughout their learning journey. They give students a choice to choose their preferred language of English or Hindi while conducting Live 1:1 sessions. They give proper time for the student to express their doubts or concerns about the topic and also perform the revision of previously learned topics. The students are also encouraged to ask their doubts regarding the recorded lessons which are available on the Let's Tinker App. In the case of having a doubt or a query, the student can go to the support section of the app and submit their doubts. The educators will go through the doubt and will conduct a dedicated doubt solving session to resolve it.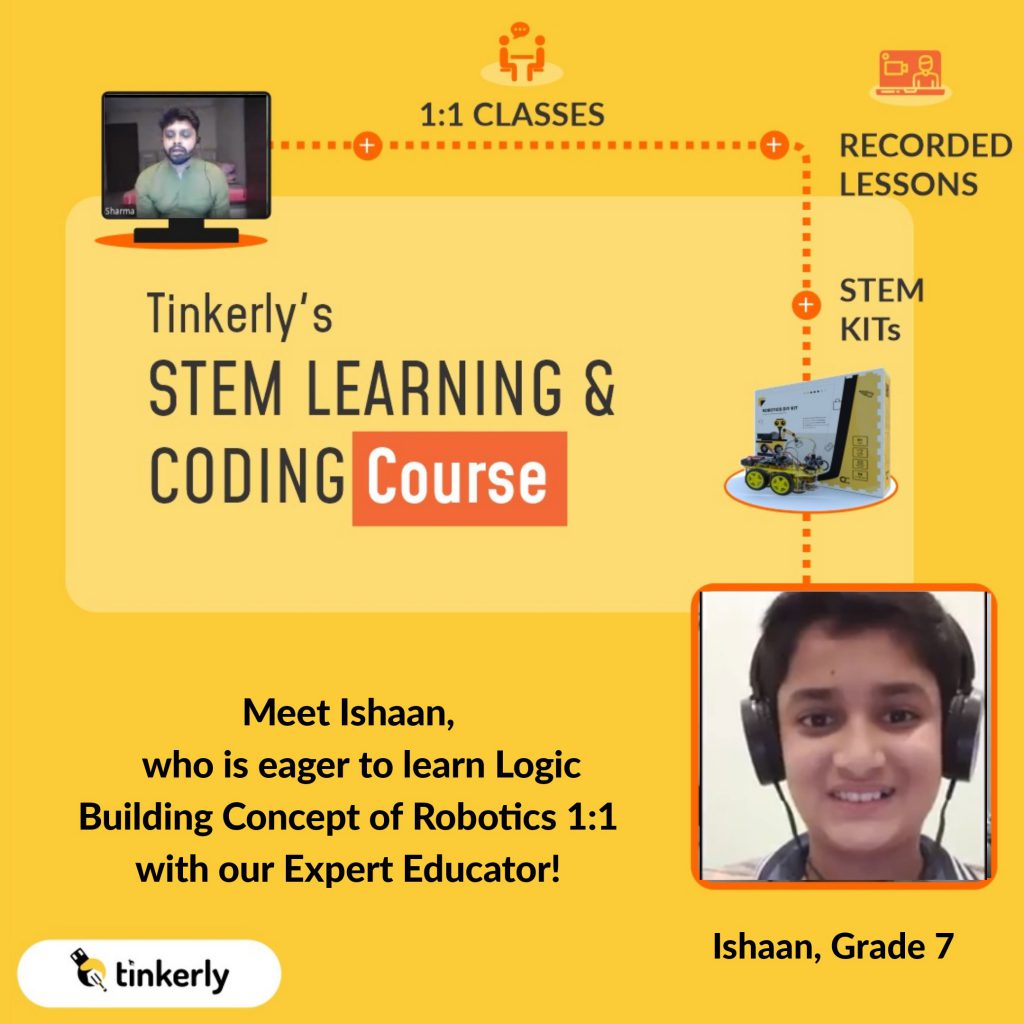 Chance to Build NextGen Projects
Unlike other online coding courses that are more focussed on apps and games, Tinkerly on the other hand gives students a chance to build NextGen projects which are capable of solving real-world problems. The students will get access to the STEM kit which consists of all the materials required in the making of these tangible projects. This way the student will be able to learn about hands-on learning and get a wonderful opportunity to build their own projects which they can use for the betterment of the society. In this way, the student can turn from a passive user to an active user of the technology and will develop an interest in the STEM field from an early age.
Learning Flexibility
By enrolling in Tinkerly's course the student will be able to get enough time for doing his homework, pursue his hobbies, spending time with family, etc. as we give freedom to students to learn anytime and anywhere. When a student chooses a class package( Learner or Achiever) he gets access to the recorded lessons which are available on the Let's Tinker App. The student will have full flexibility to learn at their own pace. They can watch, rewatch, pause the recorded lessons, and are free to ask away any doubts from the expert educators by dropping a query at the support section of the app. This type of learning flexibility takes the burden off student's shoulders and is a wonderful way to improve their learning outcomes.
Takes Learning Beyond Screens
Unlike other online coding courses in the market which are focused on screen-based learning, Tinkerly incorporates STEM kits in its play-based curriculum to ensure that each and every student will be able to enjoy the thrill of experiential learning and limit their screen time. This unique approach of adding STEM toys along with coding classes is one of the most amazing USPs of Tinkerly's STEM & Coding course offerings. It teaches students the practical aspects of how things work in real life and empowers them to build tangible real NextGen projects which are capable of solving real-world issues.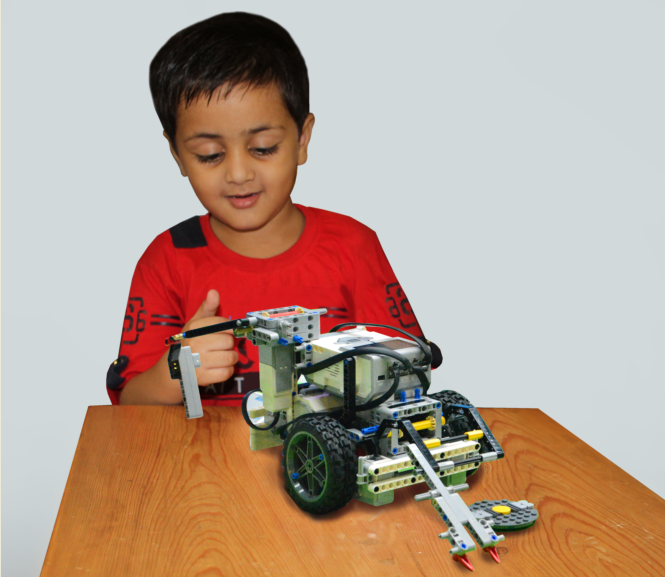 Conclusion
We have learned about the most amazing student-friendly features of Tinkerly's STEM & Coding course and discover how it can empower young minds to not only consume tech but also guides them to build tech too. So What are you waiting for? Give wings to your child's dreams by enrolling him for the Free Demo Session right now!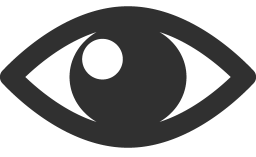 1351