We are living in a very competitive world. If you are a parent and want your child to succeed in life then you need to start preparing them about innovative technologies from an early age. Kids have a nature of curiosity they love to interact with their surroundings. Our generation of kids has access to tablets, mobile phones, and other electronic gadgets and they love using these products but they are only the passive user of these electronic devices. If your child learns about the internal working of these gadgets and how these can be interconnected with other electronic devices with the help of the internet to carry out certain tasks with ease, then your child can turn into an active user of this technology.
What is the Internet of Things(IoT)?
In simple words, IoT is a system of interrelated web-enabled smart devices that have the ability to transfer & receive data over the internet without requiring human intervention. This type of interconnection of these electronic devices to serve different purposes comes under the term of Internet Of Things (IoT). The Child after learning this will be able to operate these electronic devices by using their own creativity & imagination power to provide solutions to real-life problems. They will be able to understand the logic behind the working of these devices.

Why Choose This Course on the Algorithms of IoT?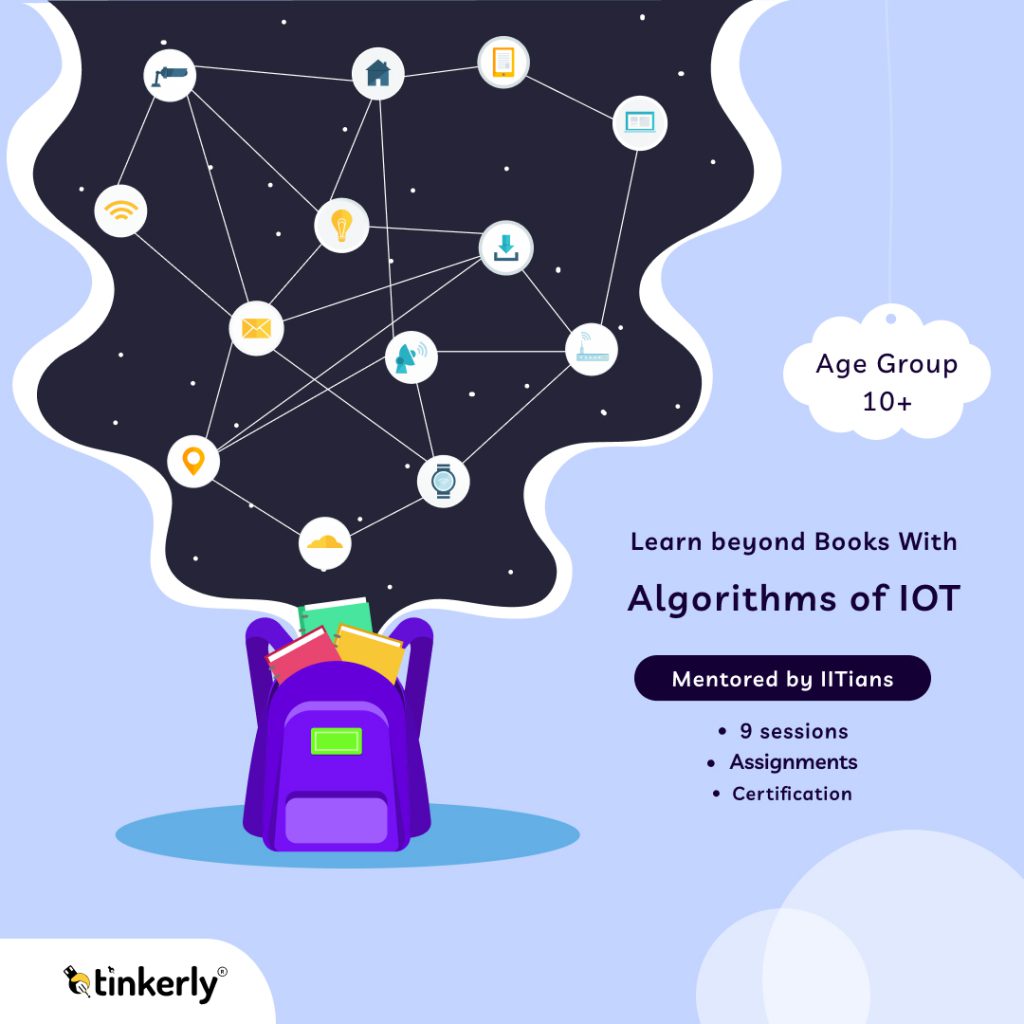 By joining this IoT course, your child will be able to construct the method to solve real-life problems. For example, your child will be able to make a system that detects the motion of the person entering the room by using a sensor and turns on the light of the room whenever someone has entered the room. This is just the example your child will be able to do a lot of cool things once he gets familiar with the concept of IoT.
Get a Sneak Peek about the Algorithms of IoT course by watching this interactive course demo video.
So Parents, If you want your child future-ready then you need to consider opting for this amazing Tinkerly's Innovative Algorithms of IoT course. Don't miss It! Join Now!
What is so special about Algorithms of IoT?
By participating in this course, your child will gain insight into the working of IoT devices.
Given below are some key features of the course.
Mentored by IITians -our finest experienced faculty members.
The Live sessions will be held on alternative days.
The Course has 9 interactive sessions using which you will get a glimpse of the IoT world.
It is most suitable for students of 10+ years of age so they can develop a solid foundation of IoT based knowledge at an early age.
The course sessions will be conducted on Google Classroom & Google Meet.
For better learning outcomes, interactive quizzes, worksheets & assignments will also be provided to participants
The participants are given 10 minutes after each session for doubt clearing & guidance by mentors. After the successful completion of assignments & worksheets assigned during the course, you will get a Certificate of Course completion that will open the door of amazing future career opportunities.
So Make the most of this golden opportunity! Enroll Right NOW!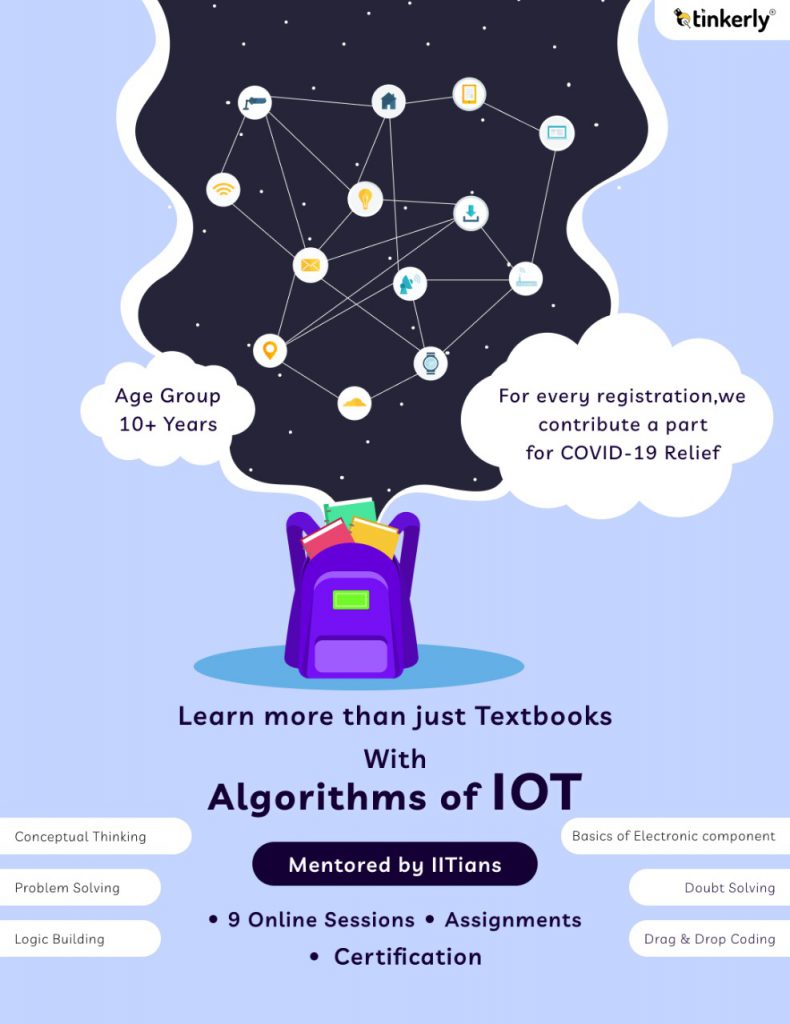 We have 2 exciting offers for the participants who attend our course of Algorithms of IoT
A 10% Off on our course.
We will organize a quiz post demo, if you score well then you will stand a chance to avail scholarships in the course fee.
The Information related to the demo slot will be shared with the participants once they fill out the demo form.


What are the Key Features of Algorithms of IoT?
Your child will learn the following things with ease:
Grasp the concept of the Internet Of Things(IoT)
Art of building algorithms and its importance in solving a complex problem.
Basics of electronics components & its important functions.
Logic Building & problem-solving skills with Computational Thinking
Drag & Drop coding
Learn about Arduino- an open-source electronic prototyping platform
Develop an interest in STEM learning.
So Parents! What are you waiting for? Enroll your kids into the exciting world of IoT Right NOW!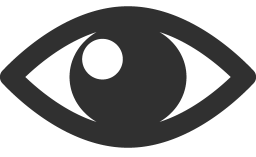 6088