Robotics has found its use in many diverse sectors of the economy.
New sectors are also evolving because of the use of robotics to innovate, which brings with it a greater influx of people & big tech in general to various fields intertwined with robotics.
Thus robotics as space or as an industry has found its use in various other dimensions and thus it is growing exponentially. Innovations in the field of robotics have in a sense changed the way, how we as humans do our work, and perceive our world.
Coding which is very well integrated into the field of robotics also brings to the fore its various uses across diverse spaces.
Integration of Coding in the Field of Robotics
Robots, which are synonymous with the field of robotics, have developed into various kinds ranging from nanorobots, autonomous drones, Agricultural & medical robots & Military & Industrial robots to humanoids, etc. We need to consider that technology has become so intertwined with a kid's life nowadays in the form of digital gadgets like smartphones, tablets, etc. It is high time to introduce kids to robotics as it will provide them with a skill set for the future.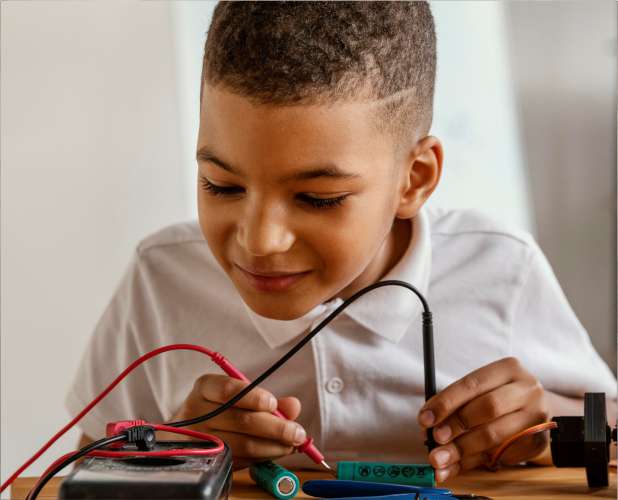 Apart from providing great skillsets for future endeavors, it provides kids with ways to improve their problem- solving & creativity skills.
Learning how to code has multiple benefits like building cognitive & creative skills, helping children increase their ease with areas like maths. That is why its use in robotics as an enabling tool expedites the process of learning & innovating.
There could be a certain group of students who have a vague interest in coding but are up for learning new technologies & various other related things. So how do we make such people warm up to the idea of coding in a fun & interactive manner?
How Robotics Can Be A Fun Introduction To Coding For Kids?
Coding may appear intellectually stimulating & a bit complex at the outset, but if one knows the right way of doing it, it will start appearing quite interesting. But for kids, introduction to anything should be done in a manner that appears to be fun & intriguing.
So, let's discuss how Robotics can be a fun introduction to coding:
1 . Robotics Helps Children To Watch Coding In Action
Coding or programming in isolation can appear quite complex for kids to grasp. Using Robotics as an enabler helps. Writing even a few lines of code, kids can get their robots to move & dance. When a child sees the effect that writing a few lines of code has on their robots, it makes coding all the more intriguing & entertaining to them. Introducing coding through robotics practically solves the purpose, as the kid can see the result of their work moving in front of their eyes. It feels more rewarding.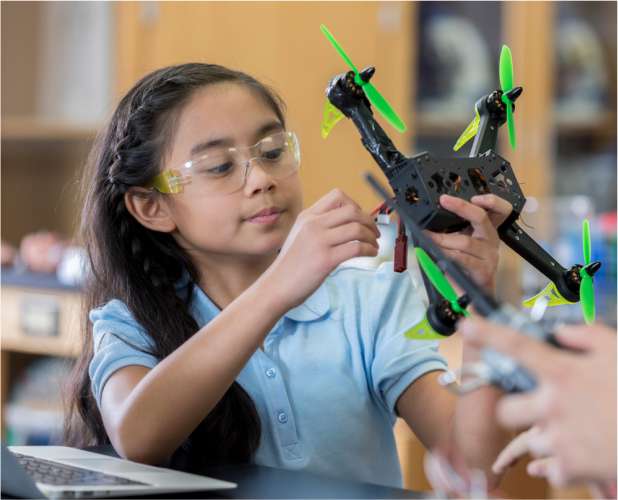 2 . Robotics Reflects The Practical Aspects Of Coding
Introducing coding through robotics is very beneficial. While learning skills related to robotics, everything appears so interlinked that the transition from learning certain aspects of robotics to coding seems very meaningful. Coding appears more engaging & fun. When it comes to kids, coding can seem to be too abstract, it may seem like a challenge to get some of them fascinated by coding. This is where robotics can come into play. Robotics takes the static process of coding and gives an immediate result. Something tangible, that kids can see & feel for themselves.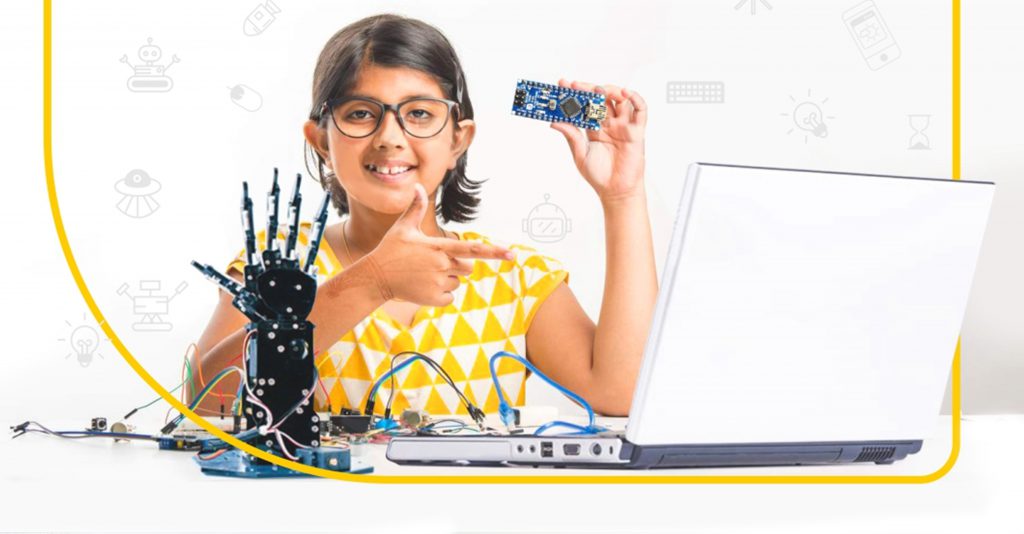 3 . It Helps In Logic Building
Learning coding through robotics helps build on logic, which will enable a kid to learn basics related to the field of IT, Mathematics, and other STEM areas. And all of this knowledge will give the kid a good head start if he/she wants to start a career along these lines. Coding through Robotics also helps facilitate STEM learning.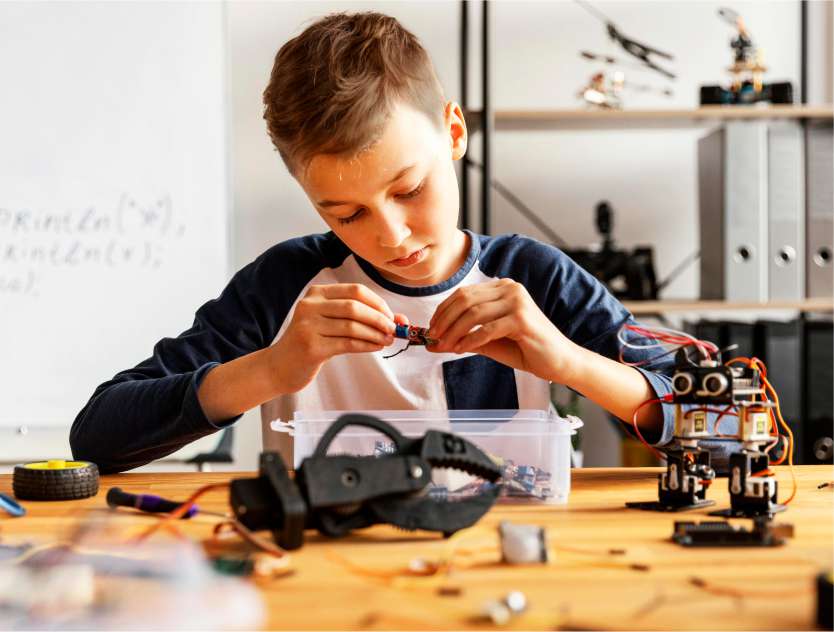 As one onboards on the process of bringing to life their robots & programming it, one can graduate to even better pastures by using a high level of coding and creating more practical robots.
4 . Using STEM Learning Approach For Better Understanding
There are a plethora of online courses prevalent nowadays which can act as a fun way to introduce young minds to coding by way of giving them practical exposure to robotics. For example, one such course is Tinkerly's STEM Learning & Coding course that is based on a play-based course curriculum. This course is blended with the goodness of STEM learning kits that reduces overall unproductive screen time by almost 50 percent by taking the learning of kids' beyond the screens. This amazing course introduces kids to the exciting world of coding in a practical manner when they are on board the process of learning robotics.
How Tinkerly Coding Courses Can Be A Fun Initiation To Coding?
Tinkerly's STEM Learning & coding courses are among one of these courses that are quite innovative & stimulating in themselves.
Tinkerly's coding courses foster ingenuity, analytical & problem-solving skills in a kid. Leveraging from these courses offered by Tinkerly, initiating oneself on the path of coding can be done in a very fun & interactive & interesting manner.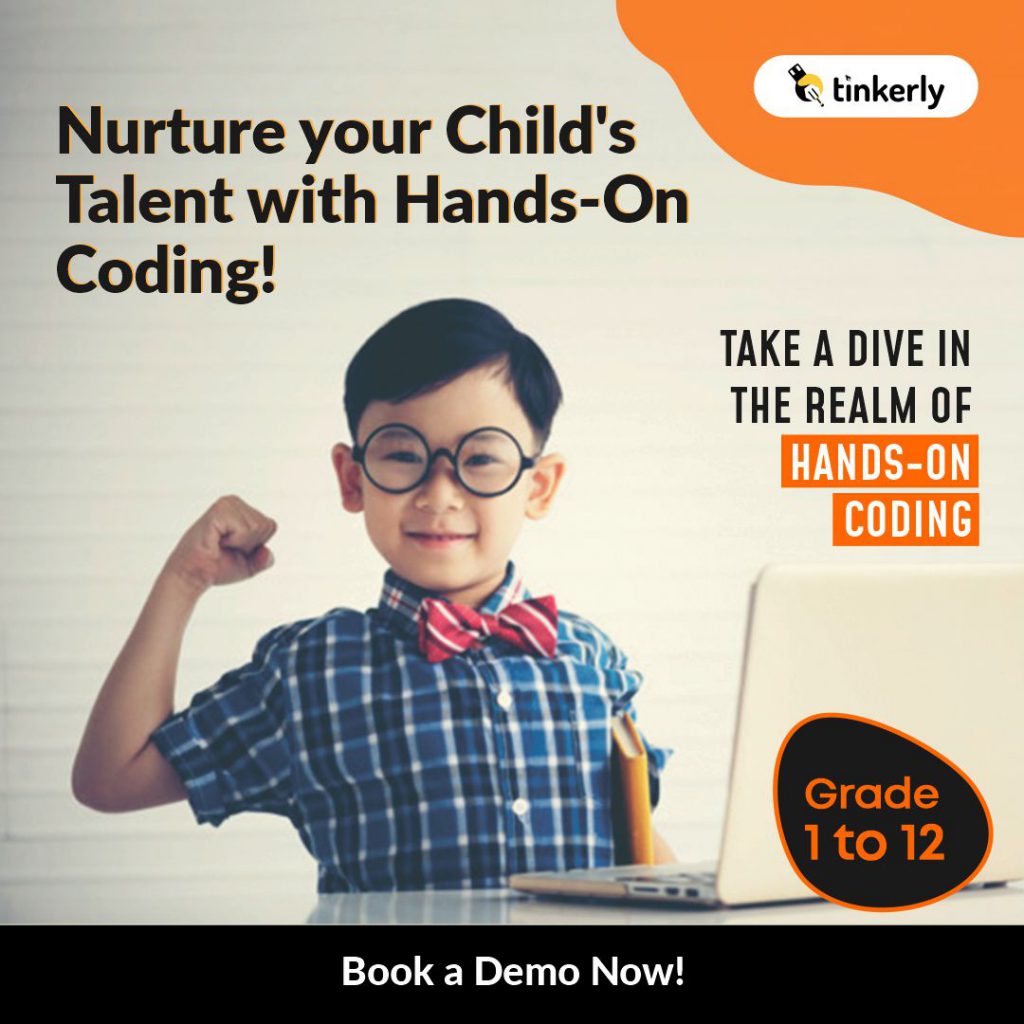 The thing that differentiates Tinkerly's courses from others is that it focuses more on the experiential learning approach. The courses offered by Tinkerly incorporate learning about the basics of robotics, introducing the concepts of coding through these robotics courses in an engaging way. All this offers a way for kids to put to use coding that offers them results that appear tangible and believable.
By enrolling in the courses offered by Tinkerly via these coding courses, the kids will be able to apply concepts related to robotics & coding in their real-life scenarios and can build next-generation projects. This will help them build certain skills which will be of great use in the future as both coding & robotics have found their relevance across diverse sectors.
Summing Up!
Nearly all areas of robotics depend upon coding one way or the other. That is why coding forms the very crux when one initiates on the path of learning robotics. In a nutshell, it is increasingly important to initiate kids to coding in integration with robotics because it adds to the fun element & the child learns easily. Therefore, Robotics is a very good discipline to make coding for kids a tangible & easily comprehensible concept.
Subscribe to our blog and be the first one to receive a notification whenever we publish our brand new blog!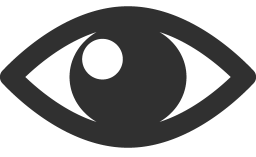 3528