Let's Tinker App is a STEM learning app by Tinkerly which is created to provide a perfect STEM learning environment for young innovators so that they will develop a genuine interest in STEM learning from an early age. This STEM learning app provides a wide range of interactive content that fosters curiosity among young minds by teaching them the real-life practical implementation of these scientific concepts in their daily lives in a fun & interactive manner.
This STEM app has a wide collection of Do-it-Yourself activity videos which keeps the kids hooked. Some of the materials required for performing these DIY activities are easily available at home. Let's Tinker App is not just limited to activity videos it has many more exciting STEM-based resources that can multiply the fun and enhance the learning experience of young innovators.
The Let's Tinker App is available for Free on Android & Web Platform.
Let's talk about the features offered by Let's Tinker App
What Type of Features are Offered by Let's Tinker App?
Let's Tinker app offers a diverse range of interactive STEM learning content consisting of Science, Electronic Components, and other innovative advanced technology-based content on IoT( Internet of Things), AI(Artificial Intelligence), 3D printing, etc. This STEM learning app is divided into a set of 5 major sections such as Activity, Tinkerpedia, Courses, TinkerMart, and Support Section.
1. Activity
This section has a wide collection of STEM-based activities that target students of different age groups. There are 4 basic levels – Beginners, Easy, Normal, and Hard respectively. The students can refer to the level which is most suitable for them according to their requirements.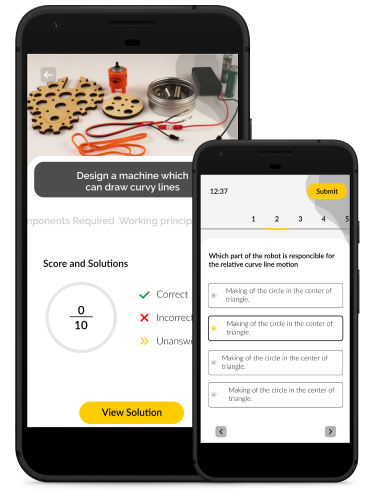 These activity videos are prepared under the supervision of highly experienced faculty members who demonstrate the entire scientific concept in a highly engaging and informative manner.
2. Tinkerpedia
This section consists of an encyclopedia of electronic components that are used in the field of robotics. The following section consists of analog & digital sensors, wireless communication components, library sensors, and actuators which play a crucial role in the robotics applications.

Each and every electronic component which is listed in this section is described in an elaborate manner. Even the full coding is also provided on how you can program these devices with the help of Arduino, which is an open-source electronic prototyping platform that helps it's users to develop amazing electronic objects. This section will make kids familiar with the electronic components of their workings and create a solid foundation of robotics in them from an early age.
3. Course
With the help of this section the kids will gain knowledge about the following things: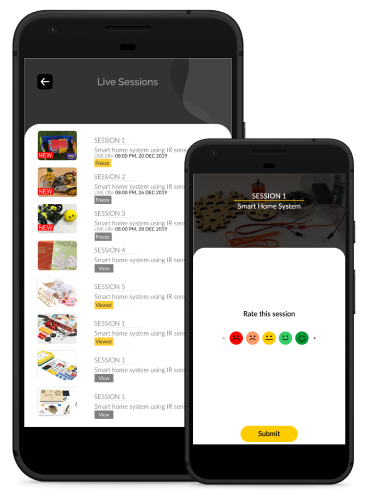 1.Innovative advanced technologies such as IoT(Algorithm of IoT) in both English & Hindi and Artificial Intelligence,
2. Sessions based on computing platforms such as Arduino & Raspberry Pi
3. Highly engaging & interactive Science boosting sessions etc.
All the courses conducted by tinkerly on let's tinker app are made available in the form of the recorded session so that in case the user has missed it can see it again.
4. TinkerMART
This is the Buying zone where you can buy Tinkerly's products exclusively which consists of Science DIY Kits, IoT & Troot kits along with enrolling for the courses. Just head onto TinkerMART, choose the item which you like and simply add it to the cart to buy the particular item.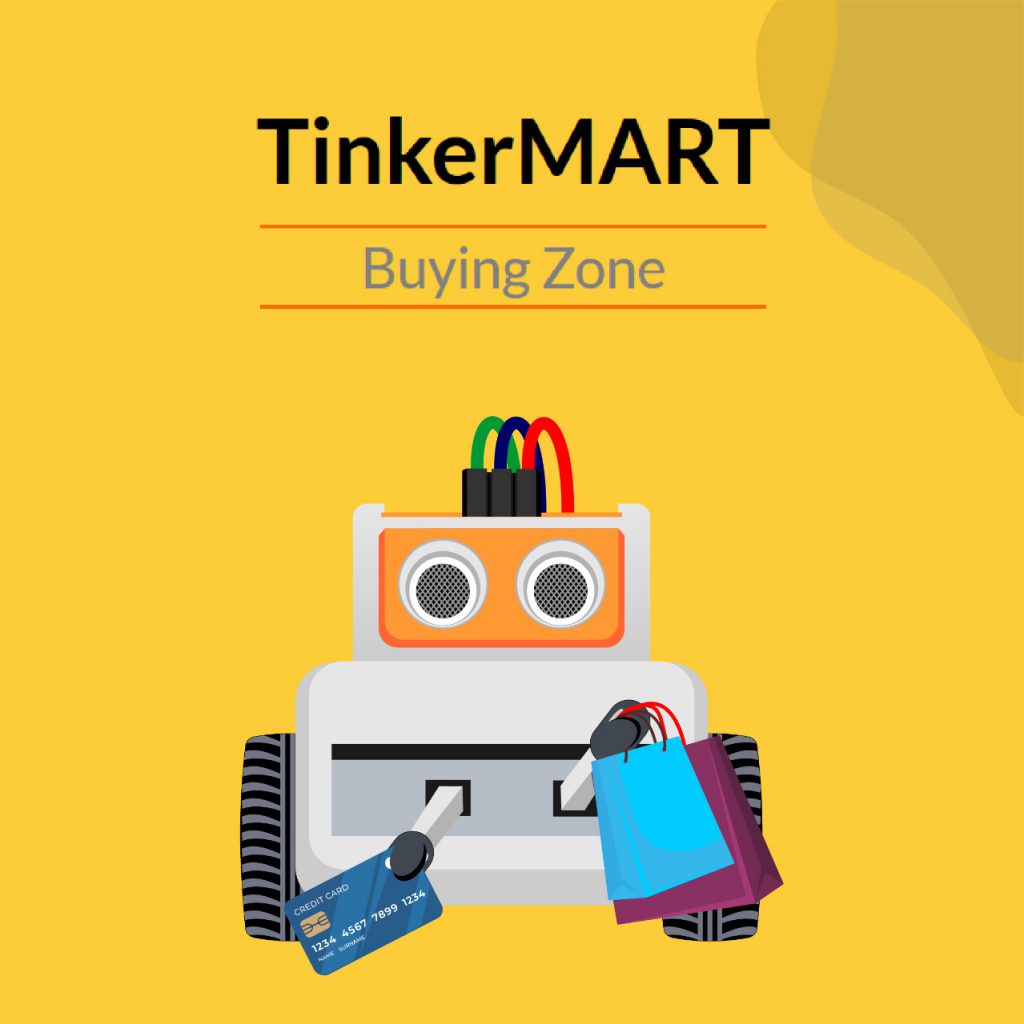 Generally, if the user buys from TinkerMART he/she will get a discount by using a special code. For more information about any type of special offer regarding a discount, you will receive a notification.
5. Support
This section is created to assist the user if he/she is facing any kind of issue while using the app, working on a project, code fixing, or having trouble in attending the live sessions. Our highly experienced experts will troubleshoot your problems as soon as they can.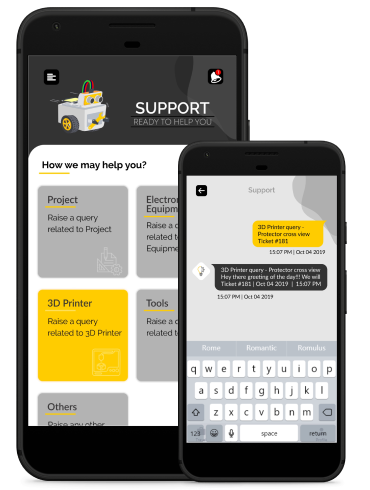 So, Get a chance to put STEM Knowledge in your pocket & Download the Let's Tinker App Now!
What are the Advantages Offered by Let's Tinker App?
Given below are the advantages offered by Let's tinker App
1. Diversity In Content
This app offers diversity in STEM learning content and has content in the form of activity videos, interactive text-based format, and is available for children of any age group at various levels from Beginners, Easy, Normal, and hard respectively.
2. Free Access to Innovative Technologies
Unlike many other apps that offer in-app payment for access to advanced technology learning sessions, Let's Tinker app gives free access to the sessions of innovative technologies like IoT, Artificial Intelligence, etc.
3. Recorded Sessions
This app provides free access to watch recorded sessions of the courses which are conducted by Tinkerly so that no one misses out anything important.
4. Exciting Challenges
To make things interesting and to test the acquired knowledge by the kids, this app carries out various types of challenges that will give a chance to kids to showcase their talent and flaunt their STEM skills. e.g PAN India STEM-Q
5. Good User Interface
The entire design of the app is so interactive and user friendly that once a child gets a hold of this app he can keep hooked to it for hours by exploring and learning valuable information.
6. Coding Support
In the Tinkerpedia section of the app, the coding support for running the specified electronic component in Arduino is given for each component.
7. Let's Tinker Coin
There are many special offers provided on Let's Tinker app in which you can get a chance to Earn LT coin if the condition of the offer is met. The LT coins can be redeemed by purchasing from TinkerMART. For example, you win 100 LT coins then you can use this LT coin on TinkerMART to buy courses, kits, etc.
So, we have learned about the features and advantages of let's tinker app in the next part of the blog we will discuss some of the most interesting handpicked activities which you can perform by using the Let's Tinker App

So, Stay tuned for more, meanwhile, Download the Let's Tinker app and enjoy the realm of STEM learning!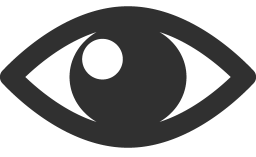 1855